References
The world is our oyster. We know just how to put our many years of experiences and our efficiency to best use: we are streets ahead or extremely high quality standards - suiting the application and meeting the customer's demands. We make the decisive contribution so that you can make your name on the market. Our customers benefit from our quality assurance and our punctual deliveries geared to their production schedules to help them save time and money. Our business partners, whom we have been working with for many years, appreciate our impressive reliability. Get to know us a dependable partner. As the specialist who suppliers your"tool, the roll" in top quality and of the most economic design.

Seevice
As professionals, we have an insight into the technical know how of today. And it's our service department, the maintenance and repair team, who knows just how to put this information to best use . Repairs such as regrinding, touching-up and regenerating are conscientiously performed using the best technical facilities available.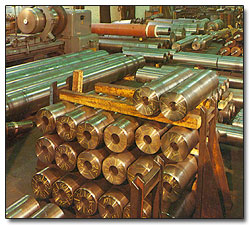 Inspection and maintenance work is carried out by a dedicated service team. Quickly and reliably. From the thorough in coming goods inspection, the comprehensive quotation, the necessary service work to the appropriate safe packaging for dispatch, we accompany your valuable "tools". All the over the world. For your safety. We provide an all-round service : including transport and customers clearance.
Our advice is comprehensive and immediate. Our experience puts us in a position to make key suggestions on cost-effectiveness.
You can contact us round the clock. Our rapid service makes this possible.

Range
Diamter : 150 mm - 800mm
Length : 100mm - 2000 mm
Weight : 50kg - 6000 kg
Grinding possible uoto 1000 mm diameter, 4000 mm length, 8000 kg unit weight.
The technical details are given in our technical data sheets which we will be only too pleased to send you. Just get in touch with us.